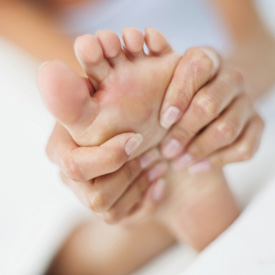 Massage Therapy
Massage in Pleasanton
As our world seems to be awash in chaos, now more than ever, people are seeking to relax and reduce stress with massage. Massage therapy is the manipulation of soft tissue-mainly muscle but also the fascia, which is just under the skin. We are pleased to provide massage therapy in our Pleasanton office. We believe that just about everybody can benefit from massage therapy!
NEW PATIENTS

Deep tissue
Myofascial release
We'll have you complete some paperwork prior to your appointment. Here are some other ways to prepare:
It's best to have finished eating about an hour before your massage
If you take medication, you should do so at least an hour before your massage
We recommend that you shower before your massage as quality lotion will be applied
Once you come in our massage therapist will let you know what to expect. We will also check out any areas that need special attention. For example, if you have a chronic condition or have been in an auto accident, she can address those concerns.
Meet Our Massage Therapist
Jamie Hartz
Jamie loves making people smile. That's why he's passionate about massage therapy. He wants to help people find long-term wholeness and happiness that doesn't fade at the end of the day.
By helping patients heal and improve their quality of life, he knows he's making a genuine difference they'll continue feeling years from now.
Changing Lives Through Healing Touch
Jamie believes that touch is the most basic form of healing. When carefully and precisely applied, touch can greatly improve the body's functioning. During his time working as a massage therapist, he's been privileged to see many of his patients' conditions either disappear or improve immensely. He loves helping patients achieve real health results without medications, many of which have extreme or sometimes even dangerous side effects.
Through massage therapy, Jamie helps people release mental, emotional, and physical stress that may have contributed to muscle tightness, limited range of motion, and pain. His patients leave the clinic feeling comfortable, rested, and ready to take on whatever challenge life throws them next.
Inspiring Wellness and Positivity
Natural health care and emotional wellness are both priorities for Jamie. He knows that wellness often has a ripple effect. As people begin to thrive, they can inspire others to achieve a better life too. Jamie became a massage therapist to promote a positive, healthy lifestyle that radiates beyond his patients into the world around them.
Jamie graduated from the National Holistic Institute for Massage Therapy in 2022, earning the title of Massage Therapist/Health Educator. Since then, his curiosity and desire to continue growing have pushed him to continue learning in every way he can. He is now advancing his education to become a Neuro-Muscular Therapist as well.
When he's not at the clinic, Jamie enjoys spending time in nature and in the company of family and good friends. He also loves music and riding his bike.
FAQ
Does my health insurance cover massage therapy?
In California it is very difficult for in network chiropractic offices to get paid for massage. Therefore, we only accept self-payment for massage. The only exception to this is people who have been in an accident and are treating under that accident case.
Do I have to get undressed during my massage?
How little or how much you want to undress for your massage is always your choice. You can talk with Joni before your massage and discuss the areas of your body on which you want her to work. You also can let her know if there are certain areas that you'd like her to avoid.
Before your massage, Joni will give you a sheet to cover yourself with and allow you to undress in private. She will use proper draping techniques once she starts your massage.
How often should I receive a massage?
It's a personal preference and depends on what your goals are. If you're seeking stress reduction, we recommend having a massage about once a month. Weekly sessions are recommended if you're getting a massage to alleviate injury-related pain or muscle tightness.
Do chiropractic and massage go hand-in-hand?
Yes, massage can help to relax the muscles before an adjustment and it also can help the muscles relax after an adjustment.

Massage Therapy Pleasanton CA | Alexander Chiropractic and Wellness