Chiropractic Care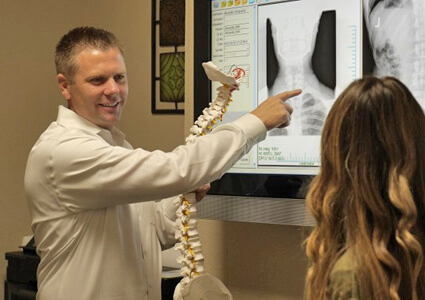 Chiropractic care is a natural healthcare alternative. It focuses on aligning and mobilizing the joints of the body, particularly the spine. A healthy spine is important because it houses the nervous system, and the nervous system controls everything in the body. It tells your heart to beat, your lungs to breathe, and your organs to create enzymes to digest your food. If you take care of your spine, the rest of your body will thank you as a result.
Chiropractic adjustments maintain spinal health, allowing the body to heal and function optimally. Here at
Alexander Chiropractic
, we offer chiropractic care for the whole family. Learn more about our approach to chiropractic care and how we might be able to help you.
Our Approach
We want to help you heal and get well. Dr. Alexander, Dr. Williams, Dr. Adler, Dr. Brett and Dr. Saincomeare trained in a variety of chiropractic techniques to better meet your unique needs. These approaches include
Traditional Diversified Manual Technique
Active Release Technique® (ART®)
Thompson Drop Table Technique
ArthroStim® adjusting
Extremity Adjusting
Flexion Distraction
Depending on your comfort level, we offer both manual and instrument-assisted approaches to care. While the Diversified Technique is a manual, full-spine adjustment, we also make instrument-assisted adjustments using the ArthroStim tool. Our practice also provides extremity work and soft tissue work on an as-needed basis.
No matter your condition or comfort level, we have something for you!
How Can Chiropractic Care Help?
Unlike other forms of health care, chiropractic care is drug-free and non-invasive. It can be used to address complaints of all kinds, including the following:
Neck pain
Low back pain
Headaches
Migraines
Sciatica
Arthritis
Carpal Tunnel
Rotator Cuff Problems
Tennis Elbow
Chiropractic care keeps your spine healthy, and a healthy spine lends itself to less illness and more comfort. If you are experiencing any of the above symptoms, you might be a good candidate for chiropractic care.
Ask About Our New Patient Special
Are you tired of nagging aches and pains? Alexander Chiropractic is here for you. We are currently offering a $79 new patient special, which includes your initial consultation and examination, an X-ray, and your first chiropractic adjustment. Contact our Livermore office today to book!
CONTACT US »

Chiropractic Care | Alexander Chiropractic