Meet Dr. Matthew Alexander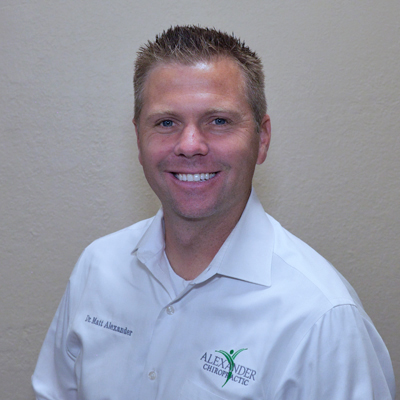 Dr. Alexander has been around chiropractic care all his life. His chiropractor father founded Alexander Chiropractic and Wellness. Dr. Alexander's dad gave him regular chiropractic adjustments since he was a child. It was during a mission trip in Mexico City that Dr. Alexander decided to become a chiropractor himself.
Today, Dr. Alexander's life focuses on his religion, family, and passion for chiropractic care.
The Perfect Fit
Ever since Dr. Alexander was a boy, he has had an interest in science and how the human body works. He has also always had a strong desire to work with and care for others. While serving as a missionary in Mexico City, Dr. Alexander realized he could have the best of both worlds. For him, chiropractic was the perfect fit.
EXPLORE OUR SERVICES

Dr. Alexander attended Brigham Young University and Excelsior College and completed a Bachelor of Science degree. After attending BYU, Dr. Alexander enrolled in Life Chiropractic College West where he earned his Doctor of Chiropractic.
Since then, Dr. Alexander purchased Alexander Chiropractic and Wellness from his father and has helped many men, women, and children reach higher health.
Additional Accreditations
Dr. Alexander is always learning and trying new things. He is certified in the following: Active Release Technique® (ART®) and RockTape™ I and II. His knowledge and skill allow him to give each of his patients the care they need.
Outside the Practice
When Dr. Alexander is not working, he enjoys spending time with his wife, Tawny, and four children-Rylee, Landon, Audrey, and Scarlett. Together, they like to get outdoors and go on hikes and walks. Dr. Alexander also loves to travel whenever he has the chance.
I genuinely care for my patient community.
Dr. Alexander loves what he does. He is passionate about natural health.
Schedule an Appointment
Have you been looking for a chiropractor with your best interest at heart? If yes, you have come to the right place! You and your loved ones are in good hands with Dr. Alexander on your side.
Contact our practice for more information.

Dr. Matthew Alexander | Alexander Chiropractic and Wellness