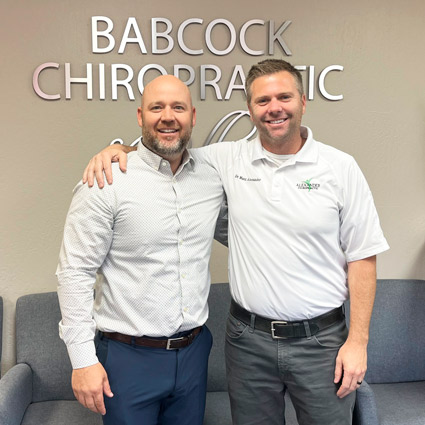 Your Chiropractor in San Ramon
Our History
Our newest Alexander Chiropractic and Wellness location has served the families of San Ramon for over a decade. Formerly Babcock Chiropractic, only the name has changed—our staff, services and practice philosophy remain the same! Dr. Babcock remains the owner and has partnered with Dr. Alexander for this location. In fact, they have been friends since they met at Life Chiropractic College West and share the same approach to family chiropractic care.
For existing patients or patients finding us for the first time, welcome! We look forward to serving you with our gentle, specific approach to chiropractic care.
Our Services
We offer a range of services to ensure you get the comprehensive care you're looking for, such as:
Chiropractic adjustments (Diversified, Gonstead, Drop Table, Activator® Methods, Flexion distraction)
Muscle stim
Ultrasound
Workers' comp/PI cases
In addition, we offer on-site digital X-rays.
Family-Oriented Care
Clinic director and chiropractor, Dr. Eric Westover also attended Life West and has over a decade of experience. Our family-friendly team also includes chiropractor Dr. Rena Ahdut, chiropractic assistant Haile Voeks and office manager Alyssa Gosling. Our massage therapists are Annie Freitas and Taylor Tillinghaust.
Our office is warm and welcoming, with a kids' corner, family-friendly TV shows playing and a no-pressure, stress-free atmosphere. We have multiple private adjusting rooms, and kids are always welcome to come back with us while their parents are getting adjusted.
We are a true family practice, offering customized care for patients from 1 day old to 100 years young. San Ramon is a very family-oriented community, with parents and kids involved in a wide range of activities, education and sports. We strive to keep everyone in your family functioning at their highest level, so you can enjoy all life has to offer and thrive!
Accessible Care
We are conveniently located just off the 680 freeway at the Crow Canyon exit. We are in-network with most major insurance plans, or you may pay with cash, any major credit card or your Health Savings Account (HSA).
Contact us today to book an appointment for yourself or your family.

Office Hours

Chiropractor San Ramon CA | (925) 838-2600