Meet Dr. Daniel J. Williams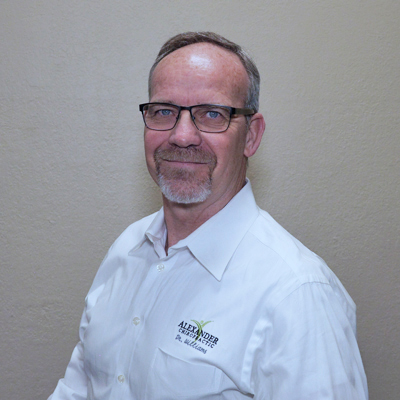 After a waterskiing accident in Malaysia, Dr. Williams sought the help of a chiropractor when he returned to California. At the time, he was serving in the Navy in San Diego. He originally thought he would pursue his dream of working as a sound recording engineer. However, while working on an aircraft carrier with a few layers of ear protection, Dr. Williams lost some frequencies. He realized then that he would choose a different career path.
Deciding on Chiropractic
After his second visit to the chiropractor in San Diego, Dr. Williams became so interested in chiropractic that the doctor handed him a book and said, "Here read this." It was Chiropractic Philosophy by Joseph Strauss. Dr. Williams read it cover to cover that night. "It resonated with me, and I knew I had to become a chiropractor."
EXPLORE OUR SERVICES

He earned his Doctor of Chiropractic from Life Chiropractic College-West in Hayward, California. Dr. Williams chose the school as his chiropractor went there. Dr. Williams liked the philosophy that his chiropractor learned at Life West: "Help as many people as humanly possible, regardless of their ability to pay."
Changing Patients' Lives
Dr. Williams is passionate about helping to change patients' lives for the better and help them feel more alive through chiropractic care.
By removing subluxation, people can be a better version of themselves. And that will then be better for the world.
Compassionate and caring, Dr. Williams takes an interest in his patients and wants to cultivate lasting relationships with them.
Enjoying an Active Family Life
When he's not caring for his patients' spines, Dr. Williams enjoys spending time with his family. He and his wife Stacey, who grew up in Livermore, are the parents of four sons: Devon, Brandon, Zac, and Carson. Dr. Williams enjoys playing the bass guitar, working with young people at church, and tackling some DIY projects around the house. Dr. Williams comes from a large family and enjoys Zoom calls to stay in touch.

Dr. Daniel J. Williams | Alexander Chiropractic and Wellness