Pediatric Chiropractic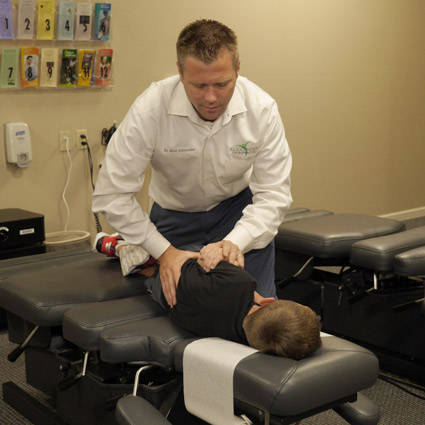 People often don't think their child needs to be checked, but their first moment of life can be extremely traumatic, with squeezing and twisting that can affect their spinal alignment. As they grow into toddlers, kids often spend more time falling over than in an upright position. And from an early age, children are looking down at phones and tablets in a position their spine was not designed for. Their spines absorb all these forces, which often lead to postural issues and spinal distortions that can cause bigger issues down the road.
Our Engaging Approach
At Alexander Chiropractic and Wellness, we love helping kids feel and function their best by making the entire experience fun. If possible, we'll have the child watch as we adjust Mom or Dad so they can see it's not scary.
NEW PATIENTS

For some kids, the first visit can be spent hanging out and having fun. We don't force kids to have an adjustment—we let them set the tone and begin care when they're comfortable with us. When they're ready for chiropractic exams, we make those into games. We document our findings at this visit, so we can track their progress with things like range of motion, function of their hips, and sleep patterns.
Our adjustments are safe and gentle and can be done with no twisting, cracking or popping for the little ones. We identify your child's misalignment patterns and do corrective adjustments using a variety of techniques including: drop table and instruments such as the Activator® or ArthroStim®.
Changing Lives
We recently helped a child on the autism spectrum who had a problem in the low back that prevented him from jumping and playing. The functional problem contributed to his lack of social connections.
Our adjustments got his spine working properly, and he could move, jump and play just like everyone else, which allowed him to connect more with other kids and interact in a more typical fashion.
Schedule Today
We've seen generations of patients, and there are always kids in our friendly, fun office! Contact us today to book an appointment for your child.
CONTACT US

Pediatric Chiropractic Livermore, Pleasanton, San Ramon, Brentwood CA | Alexander Chiropractic and Wellness