Functional Nutrition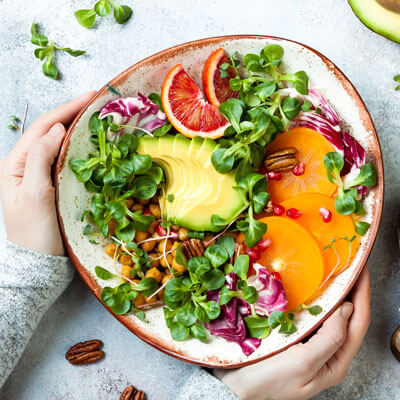 Developing a healthy diet is a key part of caring for your body. At Alexander Chiropractic and Wellness, we offer functional nutrition care to help you lower inflammation by learning to improve the way you eat. As a result, you'll feel better and function at your best. You may even lose weight while you're at it.
NEW PATIENTS

Better Meals for a Better Life
Functional nutrition uses food and supplements as lifestyle changes to achieve maximum wellness. Certified holistic nutritionist Cammie Cavros will work with you to build a customized meal plan that fits your needs.
Healthy eating is important for everyone. We can help with:
Blood sugar issues
Cardiovascular conditions
Diabetes
Thyroid disorders
High blood pressure
Inflammation
Menopause
Digestive and gut health issues
Bringing Care to Everyone
This service is exclusive to our Pleasanton location, but it is available to any of our patients.
We offer all chiropractic patients a free 20-minute consultation to get you started with the essentials. For patients ready for one-on-one coaching, the initiation fee is $79, a customized meal plan is $150, and each 30-minute coaching session is $50.
Better eating is for everyone. We would love to visit your workplace with a nutritional counseling service for employees, where we'll cover the foundations of healthy living.
Personal Understanding and Support
Cammie is supportive and easy to talk to. She's struggled with weight issues in the past and continues to live with a thyroid condition. Her goal is to educate and empower you to break the cycle of yo-yo diets and feel confident making healthy decisions for yourself.
We don't promote fad diets that eliminate an entire food group. While she draws inspiration from the Mediterranean diet, Cammie will design a unique food solution to help you sustain healthy eating for a lifetime.
We offer Designed for Health supplements as an affordable, high-quality option that ensures your nutritional needs are met.
Book Today
We want to be a non-judgmental source of support as you build a life that tastes and feels better. Schedule now!
CONTACT US

Functional Nutrition Livermore, Pleasanton, San Ramon, Brentwood CA | Alexander Chiropractic and Wellness